NEUTRAL
warehouse terminal
Physical handling of shipments primarily for sea and air operators and forwarding companies. We accept palletized, loose and standard harmless goods from third countries, Community goods, goods subject to veterinary control, and goods subject to the ADR convention.
Short-term storage of Community goods
Consolidation of export shipments
Processing and deconsolidation of LCL / FCL, FTL / LTL groupage shipments
Certified food warehouse
Storage of ADR goods ( exception of classes: 1 and 8)
Handling of oversized shipments with a maximum weight of 5000 kg per cargo unit
Fastening of export shipments
Representation in customs procedure and administrative processing of shipments at the branches of the Customs Office Bratislava
Providing all customs regimes
Issuance of guarantees in customs procedure
Representation in customs veterinary control
Holder of SHS/AEO certificate for customs procedures and security
Simplified customs procedures
Delivery and collection of combined transport shipments by own vehicles and vehicles of contractual partners.
Domestic groupage transport of partial shipments within Slovakia from/to Bevori Bratislava Warehouse
International groupage transport of partial shipments on the route Bevori Bratislava Warehouse - Schwechat Airport
Express transport of partial shipments.
BEVORI International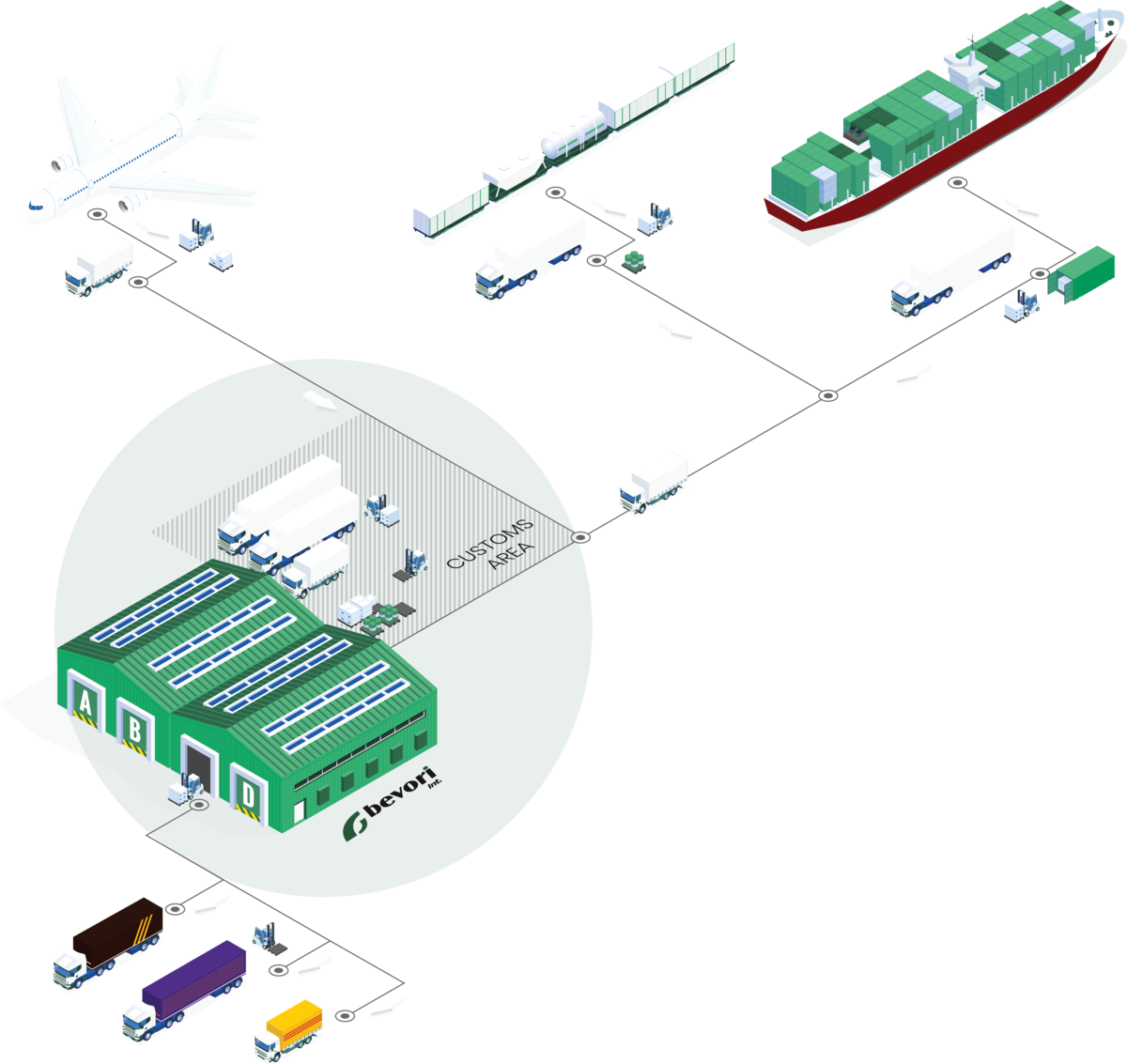 1997
Founding of the company
×
Founding of the company
office : Galvániho 2/a, 821 04 Bratislava
public customs warehouse, customs declaration services
2005
Change of provided services
×
Change of provided services
the main focus on warehouse terminal operations, customs declaration and related transports
public customs warehouse
issuance of guarantees in customs procedure
international and domestic forwarding and transport
2008
ISO 9001:2000 Quality Management System certificate
×
ISO 9001:2000 Quality Management System certificate
forwarding , transport, warehousing , public customs warehouse, and customs declaration
2010
Change of seat and operation of the company
×
Change of seat and operation of the company
office: Staviteľská 7, 831 04 Bratislava
2016
Authorized Economic Operator (AEO) status
×
Authorized Economic Operator (AEO) status
customs procedures
security
Contact
Bevori International
Staviteľská 7
Žabí Majer
831 04 Bratislava
SLOVAKIA

IČO: 35714581
IČ DPH: SK2020265566

Forwarding and Transport:
Branislav Huščava
huscava@bevori.sk
+421 910 909 809

Jakub Sekvenc
Icl@bevori.sk
+421 911 708 680

Company Management
Róbert Škarba
Managing Director
skarba@bevori.sk
+421 902 853 815

Peter Karpinský
Commercial Director
karpinsky@bevori.sk
+421 911 140 733

Customs Declaration
Adriana Gombkötöová
Head of Department
clo@bevori.sk
+421 903 760 231

Janka Pajonková
pajonkova@bevori.sk
+421 918 784 353

Jana Šarlinová
sarlinova@bevori.sk
+421 902 489 382

Lenka Kovačičová
kovacicova@bevori.sk
+421 908 909 081

Economic Department
Martina Olgyay Hornáková
ekonom@bevori.sk
+421 903 236 662